Dr.Juan Andrade – Clinica Castellana
Dr.Andrade, after his graduation in medicine and surgery at the university of Juan N Corpas in Bogota (Columbia) and after his specialization in internal medicine and general surgery, decided to focus his career on the cosmetic hair loss surgery and in 2008 opened his clinic, called "Clinica Castellana", based in Madrid, Spain.
The doctor is constantly updated attending the main international congresses. Since 2013 he is a ISHRS member, one of the most important international organizations in the hair loss surgery field. Dr. Andrade improved his surgery skills thanks to the help of famous surgeons, such as Dr.Alex Ginzburg, Dr.John Cole and Dr.Ricardo Mejia.
With more than 10 years activity, Dr. Andrade and his team operated more than 3000 patients.
The clinical staff is composed by more than 36 specialists.
CLINICA CASTELLANA – WHAT WE DO
Clinica Castellana counts sterile and innovative operating rooms in compliance with European hygienic rules where FUE surgeries are performed. We want every patient to feel comfortable so we provide all the necessary to carry out safe surgeries.
For the diagnosis, we use the advanced tool called Trichoscopy. This tool allows to determine the donor and receiving areas quality.
In this way, it is possible to have a better idea about the patient's skin and follicles state and determine the number of follicular units needed for the surgery.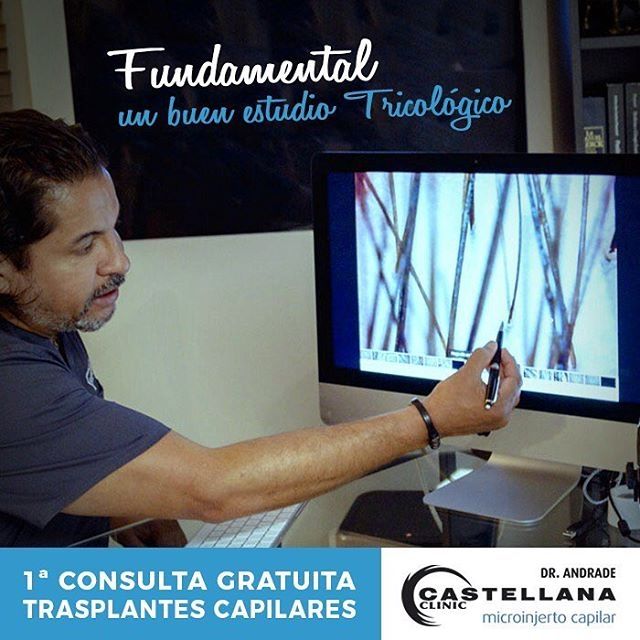 For the follicular units extraction we use the Mamba punch. This tool, designed by Dr. Roberto Trivellini and presented during the most important international congresses, allows to control 3 important movements: rotation, oscillation and vibration.
With the Mamba punch, whose external diameter can vary between 0.7 and 1 mm, follicular units rich of connective tissue are extracted with the minimum transection level. The survival level of the extracted follicles is 99%.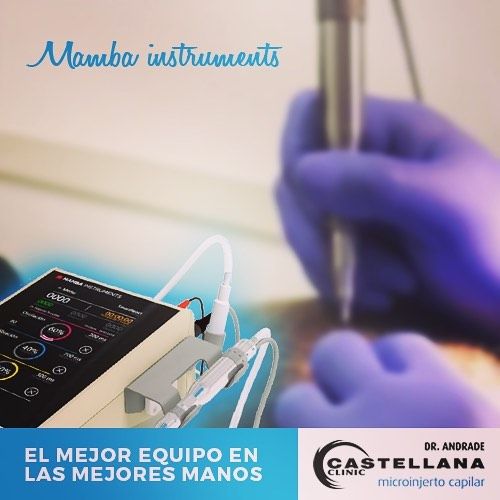 For the graft and incision phases, Dr. Andrade uses the Lyon implanter. It allows to carry out graft and incision steps at the same time, reducing scalp traumas.
PRP and LLP laser(Capillus) treatments are included in the price. Those treatments are approved by FDA for 1 year. Post-surgery checks up to one year are free.
Our operating rooms fully respect regular safety standards and are fully equipped with all the emergency instrumentations (defibrillator, oxygen mask, vital parameters monitoring system etc.) in order to be able to face any kind of situation.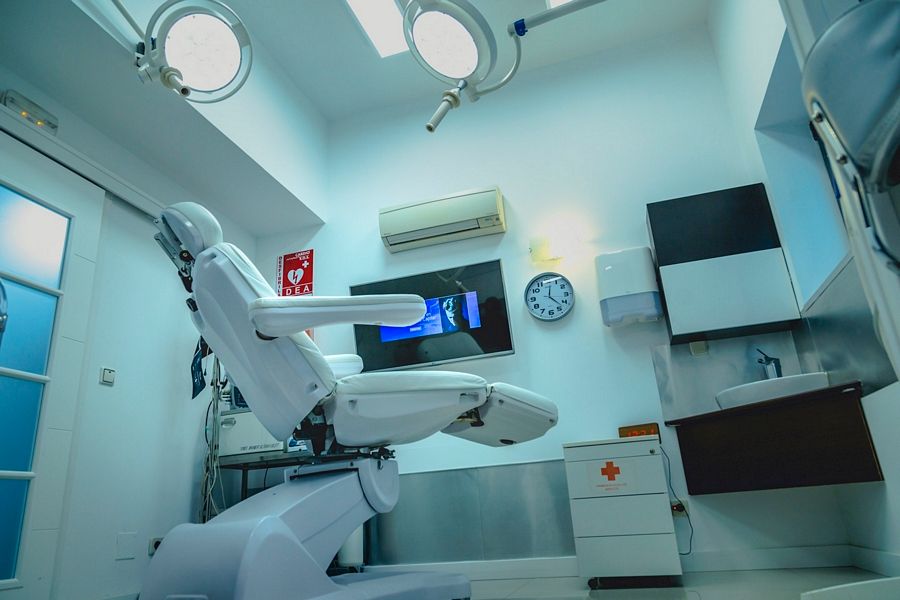 It is important to underline Dr.Andrade's main goal: totally satisfied patients.
For this reason, if after 1 year from the intervention a small touch-up in some areas would be necessary, there would be the possibility to have it for free *
* It must be clear that this is not a guarantee because we are talking about an aesthetic intervention and, every patient and surgery, can produce different results based on the patient's initial features and conditions.
COSTS AND CONTACTS:
FUE surgery costs: 3 euros/graft – 5 stars hotel overnight accommodation, post-surgery kit and after surgery check ups included
You can get a surgical evaluation in Italian using our virtual consultation form and selecting Dr.Andrade.
Click here to see the form: