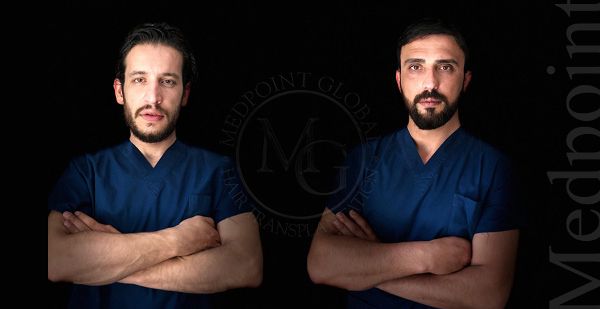 MEDPOINT GLOBAL HAIR TRANSPLANT CENTER – THE HISTORY
The Medpoint Global clinic was founded in 2013 by the two surgeons Dr. Yilman and Dr. Makasci and a team of experts in hair transplant surgery.
The results to date demonstrate that the surgeons and trichologists at Medpoint Global work in harmony, sharing their experience and talent.
The clinic operates on a maximum of two patients per day, one per doctor, in order to dedicate maximum attention to the patient and achieve the best possible result.
The doctors personally perform the incisions and supervise the extraction and grafting phase.
The goal is always to take the maximum number of follicular units necessary for the patient but in a safe way, preserving the donor area.
The clinic is located in the prestigious Academic Hospital, which has a partnership with Harvard Medical School and meets the highest standards of quality and hygiene.
SERVICES OFFERED:
– Creation of incisions with sapphire blades performed by the clinic's 2 surgeons.
– DHI / CHOI IMPLANTER – for incisions and graft placement, performed by the clinic's surgeons.
– Classic FUE transplantation
– Beard transplantation
– Eyebrow transplantation
– Therapeutic treatments for the treatment of baldness
– VAPOR INFUSION THERAPY (ICEFFECT): www.medpointglobal.com/it/iceffect.html
In the Iceffect technique, hair follicles are taken from the donor area and these grafts are preserved in Iceffect solution, which has a cooling and strengthening function. It is then subjected to the freezing process. This method is a technique that is applied before the graft transfer and aims to obtain more effective results. With this method applied before the graft transfer, the loss of graft tissue and cells is avoided and the hair follicles are revitalized.
The additional advantage is that the healing process occurs faster and the transplanted hair will grow back healthier and stronger.
Great attention is also paid to the incision creation phase, as the angles and directions of the transplanted hair determine the naturalness of the result.
MEDPOINT GLOBAL clinic offers a package that includes:
✅ Classic FUE with incisions made with sapphire blades or FUE with DHI incision/graft method.
✅ Painless anesthesia.
✅ Maximum number of grafts that can be removed safely for the patient.
✅ VIP transfer (airport/hotel/hospital)
✅ Post-transplant service for 1 year
✅ Complete blood test
✅ Post-operative medicine
✅ Post-operative kit
✅ 3 months of post-transplant care products
✅ 3 days of post-transplant care products
✅ 3 days and 2 nights in a 5-star hotel with breakfast included.
✅ PRP treatment
✅ Mesotherapy treatment
✅ ICEFFECT® infusion therapy
CONTACT INFORMATION:
Phone: +90 542 359 56 07
Email: info@medpointglobal.com
Website in italian: www.medpointglobal.com/it/