BIOGRAPHY.
Smile Hair Clinic is a Turkish professional medical center specializing in hair transplantation, founded in 2018 by Dr. Gökay Bilgin and Dr. Mehmet Erdoğan, renowned surgeons who have global recognition in the field. Located in Ataşehir, one of Istanbul's most popular neighborhoods, the clinic has no less than ten floors and welcomes its patients and guests in an elegant 1600 m² building.
Smile is one of the most important hair transplant clinics in Istanbul: the surgeons follow all the operational processes and each member of their team involved in the operation has received adequate medical training.
Thousands of procedures have been performed for years on men and women from different countries, obtaining satisfactory results and receiving positive reviews: to date there are as many as 15,000 satisfied patients..
Smile's staff takes care of the patient's health and is prepared for all possible complications, as the doctors have extensive experience in medical emergencies.
The entire medical team receives periodic training in Basic Life Support (also known by the acronym BLS; basic life support), which is the first aid procedure that includes cardiopulmonary resuscitation and a sequence of basic life support actions, according to the AHA (American Heart Association) guidelines.
The mission of the clinic is to make the patient feel at home, in a familiar environment and in a facility that guarantees sanitary hygiene and medical safety. Turkish hospitality, surgical mastery and quality of services are enviable characteristics of the clinic since its founding, to provide all guests with a high level of satisfaction.
At Smile Hair Clinic a few surgeries per day are performed paying the utmost attention to patients and applying constant and impeccable sterilization to instruments and environments.
Dr. Gökay Bilgin, Dr. Mehmet Erdoğan, Dr. Firdavs Ahmedov and Dr. Mehmet Zİroğlu monitor patients during all stages of surgery and are key players in surgical consultation and making incisions. The operating beds are custom made of high-density crushproof foam so that patients feel comfortable during the surgery.
The official referral team offers exclusive consultancy for Italian patients on behalf of the clinic and is considered an established professional in Hair Surgery, working daily to support the patient from the first to the last moment of the path undertaken to undergo surgery.
DOCTORS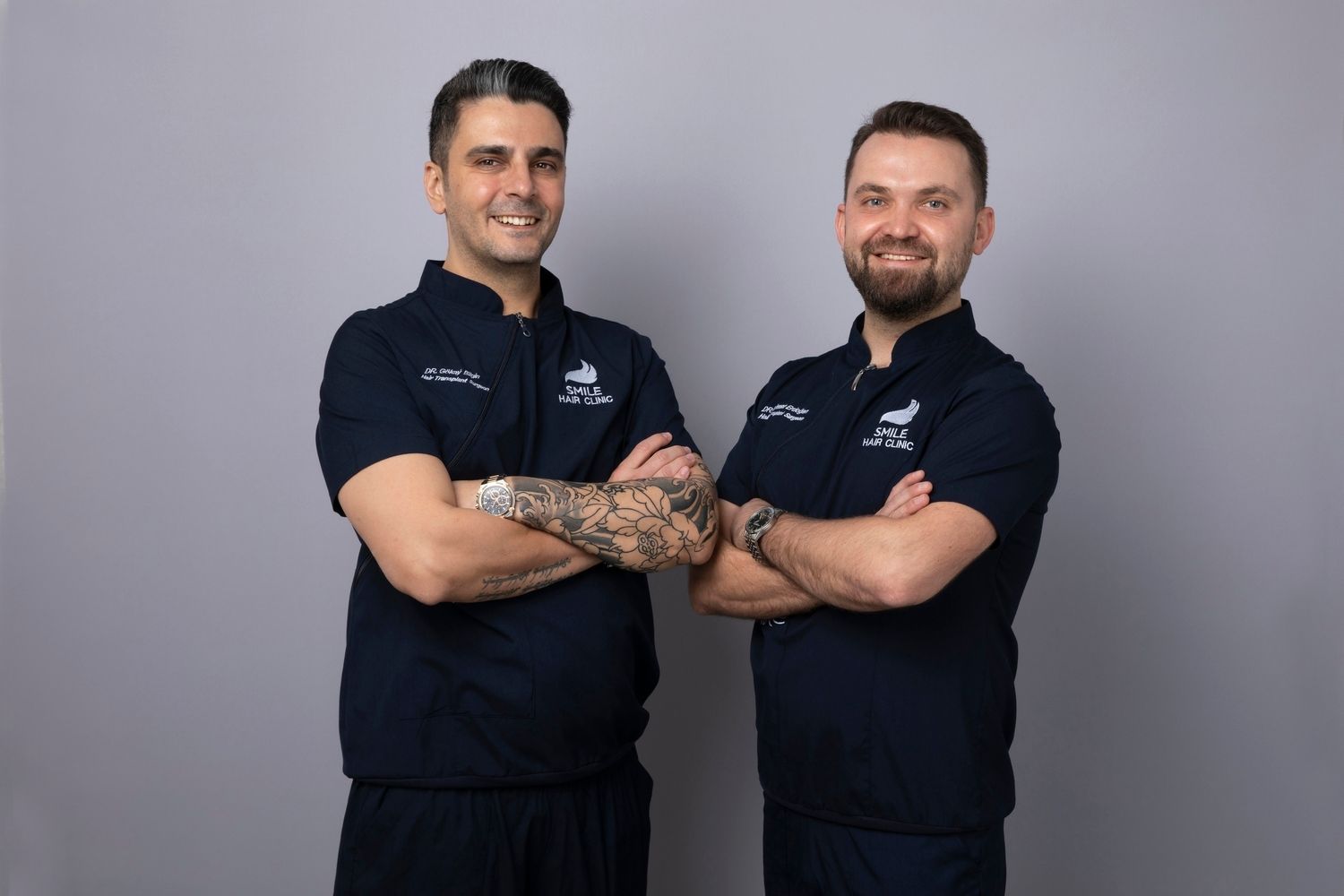 Dr. Mehmet Erdoğan, who received his medical degree (MD) in the Faculty of Medicine at Yeditepe University, is the co-founder of Smile Hair Clinic and a member of ISHRS.
His first career began at Acıbadem Health Group as a physician. He later decided to pursue his ambition in medical administration and transferred to Medicana Health Group. His strong business acumen led him to be assigned as Deputy Chief Medical Officer and Director of the International Patient Center in 2013. Subsequently, Dr. Erdogan simultaneously became a hair transplant surgeon and aesthetic physician. Since then, he has performed more than 4000 procedures, so his experience in hair transplantation is significantly advanced. His reliable skills, deep experience combined with an understanding of international medical tourism management experience led him to co-found Smile Hair Clinic in 2018.
His perfectionist perspective on aesthetics has led him to seek advancements in modern hair transplant techniques. Dr. Erdogan's reputation for hair transplantation is now known worldwide.
In his procedures, Dr. Erdogan uses the latest versions of motorized punch and sapphire blades. He believes that medical consultation is the most crucial step: study of the donor area, hairline design and surgical planning according to the patient's facial features will ensure a natural result.
Dr.Gökay Bilgin holds a Doctor of Medicine (MD) degree from the Faculty of Medicine at Istanbul-Cerrahpasa University. He is the co-founder of Smile Hair Clinic and an ISHRS member.
Dr. Bilgin began his career at Medical Park Health Group, one of the most accredited healthcare groups in Turkey. He explored developments in aesthetic procedures; he earned his Training Diploma in Medical Aesthetics and Hair Transplantation. He joined Medicana Healtcare Group as a hair transplant surgeon and was then quickly promoted to Deputy Chief Medical Officer of the facility. Dr. Bilgin continued his employment until co-founding Smile Hair Clinic. He has since completed over 4000 hair transplant procedures. Today, Dr. Bilgin's reputation on hair transplantation is now known worldwide due to the happiness of his patients from all over the world.
He believes that during the day surgery of hair transplantation should be understood as a 360 degrees treatment for patients: they should receive medical and surgical assistance to obtain excellent and natural results, through a dedicated and professional surgery supported by a proper planning. In his operations he prefers to use motorized punch for extractions and sapphire blades for incisions with FUE technique.
Dr. Firdavs Ahmedov is a hair transplant surgeon at Smile Hair Clinic and an ISHRS member.
His admiration for medical aesthetics was formed during his medical studies at Ege University. This passion, which grew exponentially, was crowned with an honorary degree in 2012. In order to maximize her practical skills, she gained rich clinical experience in general surgery and emergency medicine at Ege University Hospital, one of the most prestigious academic hospitals in Turkey. She developed her advanced surgical techniques by training in various public and private health institutions. Important surgical services he provided at Mount Sinai Hospital, Recanati Miller Transplant Institute and James J. Peters Bronx Military Hospital in New York, USA.
Passionate about medicine dedicated to continuous improvement, he started his career in hair transplantation and medical aesthetics in 2015 at the best medical facilities accredited by the Ministry of Health of the Republic of Turkey. His main area of expertise is FUE, DHI and Revision hair transplant surgery in male and female patients. Dr. Ahmedov in addition to using the motorized punch can also perform manual extraction; he performs incisions with sapphire blades. His priority is always to make his patients happy, so he performs surgeries that can be life-changing for the patient. He has completed over 3500 hair transplant procedures.
Dr. Mehmet Ziroğlu started his medical career at Gaziantep University in 1998. He directed his professional life working as an emergency physician, hemodialysis and family physician. After nine years of experience in operative medicine, he strengthened his practice with management sciences, studied Business Administration at Istanbul University and worked as a medical manager in global companies such as UCB Pharma and Astra Zeneca Turkey for six years in the pharmaceutical industry. After his medical training, Dr. Ziroglu studied Business Administration and received training accredited by ICF, which provides unique global standards for coaching. He offers executive coaching to help people achieve the best version of themselves. Dr. Ziroglu is committed to teaching continuous improvement. He believes that every individual is born with an original idea to change the world and achieve their uniqueness with enough effort and discipline. Leadership development, creation of self-discipline, self-confidence, motivation and development of self-awareness are the factors he tends to convey constantly. In this way he aims to help his patients reach their maximum potential and maximize their performance.
SERVICES OFFERED AND PRICES.
Smile Hair Clinic proposes an intervention that guarantees the complete dedication to the patient from the first to the last minute, with no time limits, taking the greatest possible number of follicular units proportionate to the available resources in the donor area. The cost is calculated in a fixed way, regardless of the smaller or larger number of follicular units transplanted.
There are two types of all-inclusive packages: the Primary package at € 2390 (excluding flight) and the Exclusive package at € 3290 (excluding flight).
In the Exclusive package
– the engravings will be entrusted to the doctors
– the stay in a 5 Star Hotel
In the Primary package
– the incisions will be entrusted to the chief assistant of the surgeon (with many years of experience)
– the stay is foreseen in a 4 Star Hotel
The guarantee of a satisfactory result is valid for both packages.
Here are the details of the offer:
Travel SERVICES INCLUDED.
1. All transfers between airport, hotel and clinic with Minivan and driver
2. Accommodation in a 5 Star Hotel (Exclusive) or 4 Star Hotel (Primary) for three days and two nights with breakfast included
INCLUDED MEDICAL SERVICES.
First Day – Day surgery
Blood test (HIV test, Hepatitis B test, Hepatitis C test) and verification of results.
Consultation for diagnosis and intervention planning, evaluation of the donor area, estimation of follicular units to be transplanted, hairline design and recipient areas with one of the doctors.
Supply of Hospital Clothing (disposable tunic and slippers).
Complete head shave.
Hair Transplant Surgery Sapphire MIcroFUE Technique under the supervision of a doctor
– Local anesthesia with injections or with Needless Instrument in the Donor Area
– Follicular unit harvesting
– Qualification, division and preservation of follicular units
– Local anesthesia with injections in the recipient area
– Incisions with Sapphire blades made by one of the doctors (Exlusive) or by the surgeon's assistant (Primary)
– Lunch break (alternatively this will be done at the end of the procedure)
– Grafting of harvested follicular units
– PRP
– Donor area bandaging
– Surgical check of one of the ducts
– Review interview with one of the doctors
Second Day – Visit.
Follow-up visit with Dr. Mehmet Erdogan or Dr. Gökay Bilgin.
Cleaning and Bandage Replacement in donor area.
SERVICES INCLUDED
1. Italian interpreter present during the day surgery
2. Smiling Bag, a cylindrical leather bag containing:
– Products for hair washing and treatment
– Medications for post-surgery therapy
– A neck pillow to sleep while preserving the transplanted area
– Absorbent pads for the first two nights to be placed on a pillow of the bed
– A cotton fisherman's hat that can be worn according to the doctor's instructions.
-Post Intervention Handbook
– Certificate of Warranty Intervention
3. Whatsapp Customer Care
Contact Information:

Phone: +90 533 465 80 72
Email: italia@smilehairclinic.com
Website: www.smilehairclinic.com/it
Italian website: www.trapiantocapellismile.it
CLINIC PRESENTATION VIDEO BY FRANCESCO ITALY CONSULTANT